You are only a few steps away from envisioning the world...
Delivery delays due to COVID-19
Following developments regarding the recent COVID-19 outbreak, delivery networks have been experiencing delays to a number of destinations. Actions taken by countries to lockdown borders and reduce movement of people is set to affect transit times and delivery options.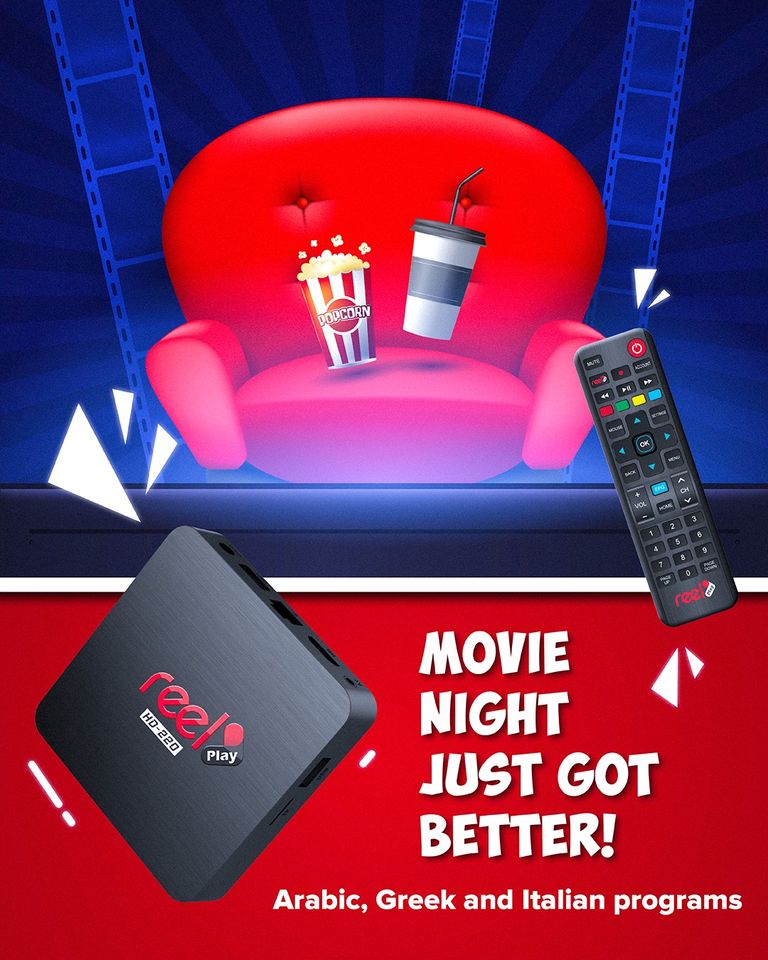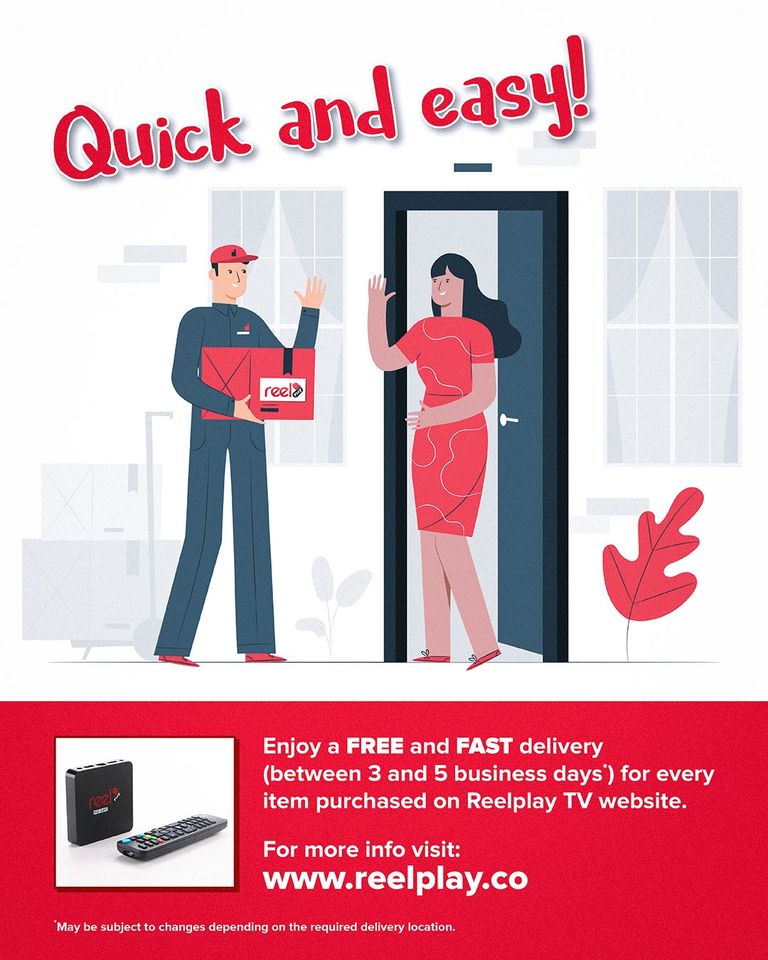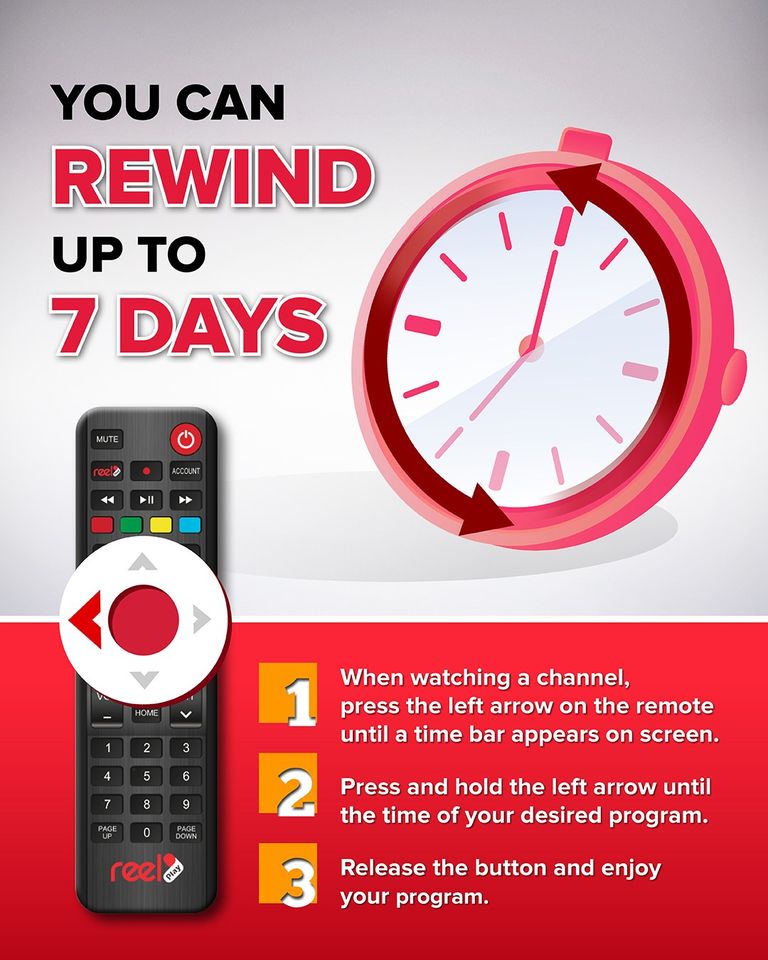 Featured products
Watch 250+ Arabic live TV! - Reelplay Arabic IPTV BOX, Arabic TV channels, 3-Month Starter Arabic TV Pack.

Express Delivery (Normally 3-5 working days).

This product includes 3-Months of Arabic service FREE**

** Only Available for NEW CUSTOMERS, Existing Reelplay Customers cannot redeem the 3 Months Free offer. one-per-customer or household, Reelplay 3 Months Starter Pack offer available only at www.reelplay.co

Reelplay TV gives you access to over 250 Arabic TV channels from the Middle East and North Africa. From news to general entertainment, passing by sports, music, kids and documentary you will definitely find a channel to cater for your needs.

Imagine all your favorite live tv channels on your tv screen without the hassle of a dish, nearly endless options for your TV entertainment.

Watch 45+ Greek live TV! - Reelplay Greek IPTV BOX, Greek TV channels, 3-Month Greek TV Starter Pack.

Express Delivery (Normally 3-5 working days).

This product includes 3-Months of Greek service FREE**

** Only Available for NEW CUSTOMERS, Existing Reelplay Customers cannot redeem the 3 Months Free offer. one-per-customer or household, Reelplay 3 Months Starter Pack offer available only at www.reelplay.co

Reelplay has added a Greek iptv 3-Months Starter Pack. Enjoy 45+ channels from Greece and Cyprus live tv with 3-Months viewing included in the purchase.
And as you would expect from Reelplay.
The same smooth streaming of live content from the comfort of your own home.

Watch 60+ Italian live TV! - Reelplay Italian IPTV BOX, Italian TV channels, 3-Month Italian TV Starter Pack

Express Delivery (Normally 3-5 working days).

This product includes 3-Months of Italian service FREE**

** Only Available for NEW CUSTOMERS, Existing Reelplay Customers cannot redeem the 3-Months Free offer. one-per-customer or household, Reelplay 3-Months Starter Pack offer available only at www.reelplay.co

Ciao...Reelplay has added an Italian IPTV 3-Months package. Enjoy 60+ IPTV channels from Italy.

And as you would expect from Reelplay the same smooth streaming of live content from the comfort of your own home.

TL-PA411KIT

AV600 Powerline Starter Kit

HomePlug AV standard compliant, high-speed data transfer rates of up to 600 Mbps1
Miniature design, smaller than most powerline adapters at the market, blends discreetly in front of any power outlet
No new wires, Easy Plug and Play operation, and no configuration required
Power-Saving Mode automatically reduces power consumption by up to 85%2

Cat6 Ethernet Network Cable High Speed

Wired Home and Office Networks
Secure & Reliable Connection
Gigabit 1000Mbps Speed
Strong Durability

4K 60Hz UHD HDMI PREMIUM CERTIFIED CABLES - PROLINK

2M Prolink Certified Premium HDMI Cable

HDMI V2.0 HIGH BANDWIDTH 4K 60Hz HDR 18GBPS

Prolink Premium HDMI cables are designed to meet the high bandwidth demands of the latest HDMI V2.0b specification supporting the full 18Gbps bandwidth. High quality materials & construction ensures ultimate performance and High reliability for 4K/60HZ HDR content. Tested and certified by the HDMI Labs Authorised test centre, this ensures that these cables support all the latest features in the HDMI V2.0b specification



Full 18Gbps 4K60(4:4:4) bandwidth certified
UltraHD 4K@60 2160p and other VESA Resolutions
Support for the wide angle theatrical 21:9 aspect ratio
Certified Premium HDMI ensures 4K/UltraHD ready
ARC (Audio Return Channel)
Low Latency
HDMI 2.0b, HDCP 2.2, 3D Signals
HDR - High Dynamic Range video
Dolby® Vision
Dolby® True HD, DTS-HD Master Audio and up to 32 audio channels for a multi-dimensional immersive audio experience

Only 6 left in stock

CyberPower CPSURGE08USB-ANZ is ideal for expensive home theatre system and audio/video devices protections. The MOV technology guards the surge suppressor and connected electronics such as phone, network, and communication equipment against surge/spikes and other power abnormalities. EMI/RFI noise filtering helps reduce frequency interference. The one-in/one-out gold plated coaxial connector provides protection for cable/satellite TV receivers and broadband modems.

FEATURES

Surge Protection
Overload Protection
Computer-grade Protection
Keyhole Mounting Slots
EMI and RFI Filtration
USB Charging Port(s)
Best-in-class Dustproof Design