Introducing the revolutionary Reelplay HD-220ac that will change the way you do things!
Stay tuned for the big reveal of our upcoming Media Player.
Are you tired of the never-ending search for the "perfect" streaming device? Look no further! Our plug-and-play Reelplay HD-220 device is here to save the day (and your sanity). Just plug it in, connect to the internet, and voila! All live tv channels and 7-day rewind reeltime content at your fingertips. No more complicated set-up, compatibility issues or even buffering.
Our user-friendly interface makes even your grandma able to use it! And you can always enjoy the latest content and app features, because we're constantly updating it. So say goodbye to staring at a loading screen and hello to non-stop entertainment with our HD-220 device. Don't wait any longer, order now and let the binge-watching begin!
You are only a few steps away from envisioning the world...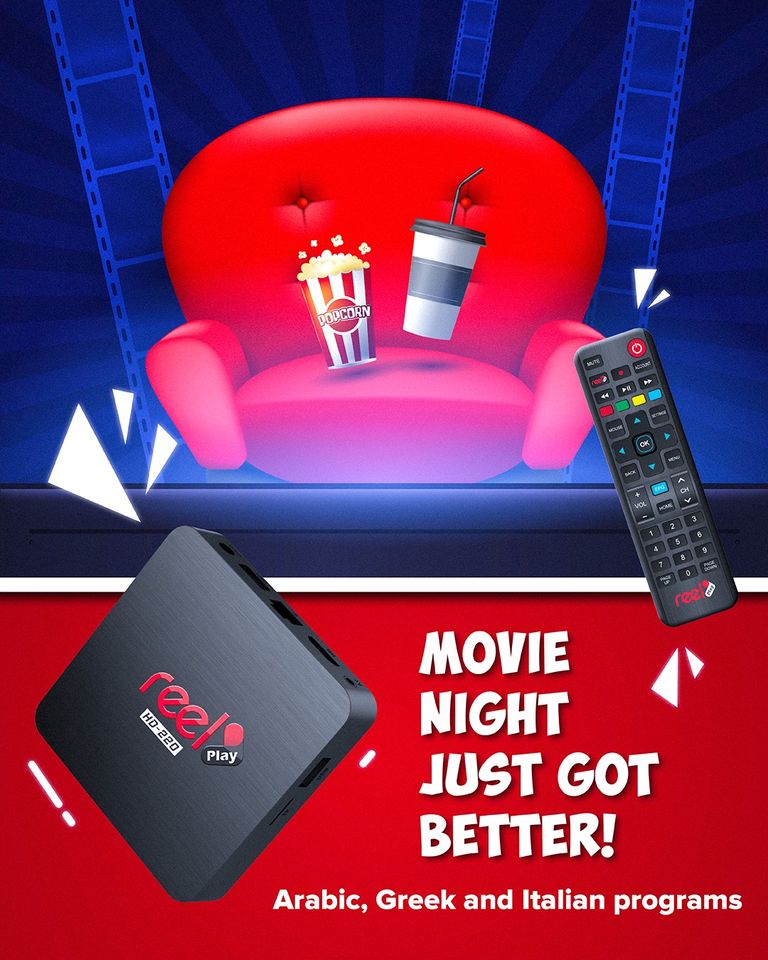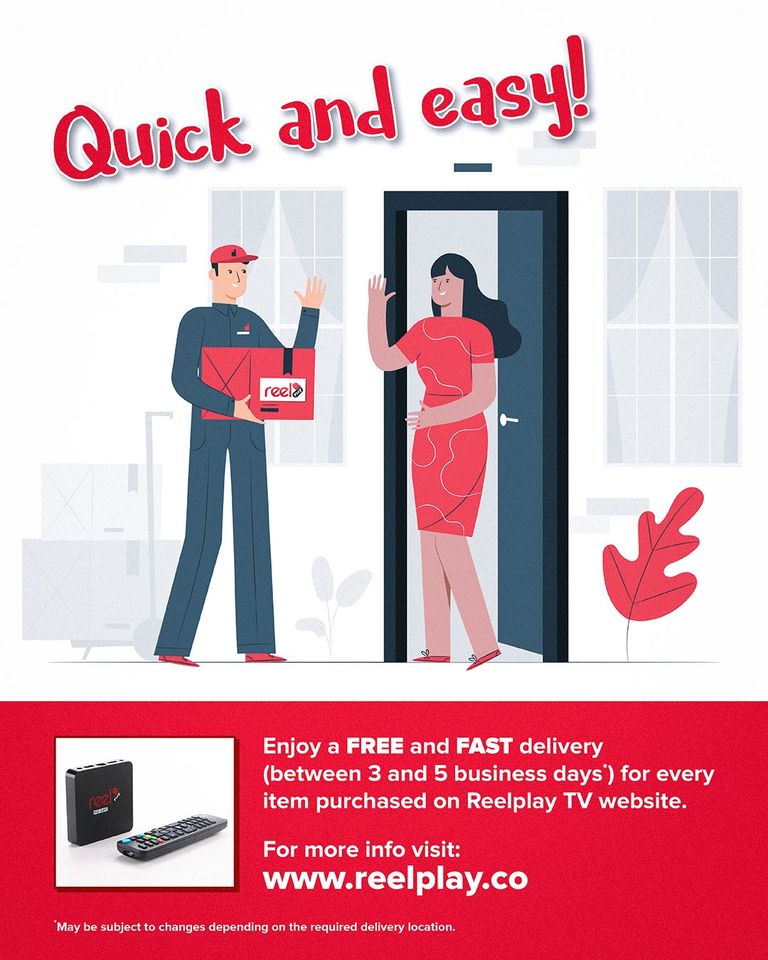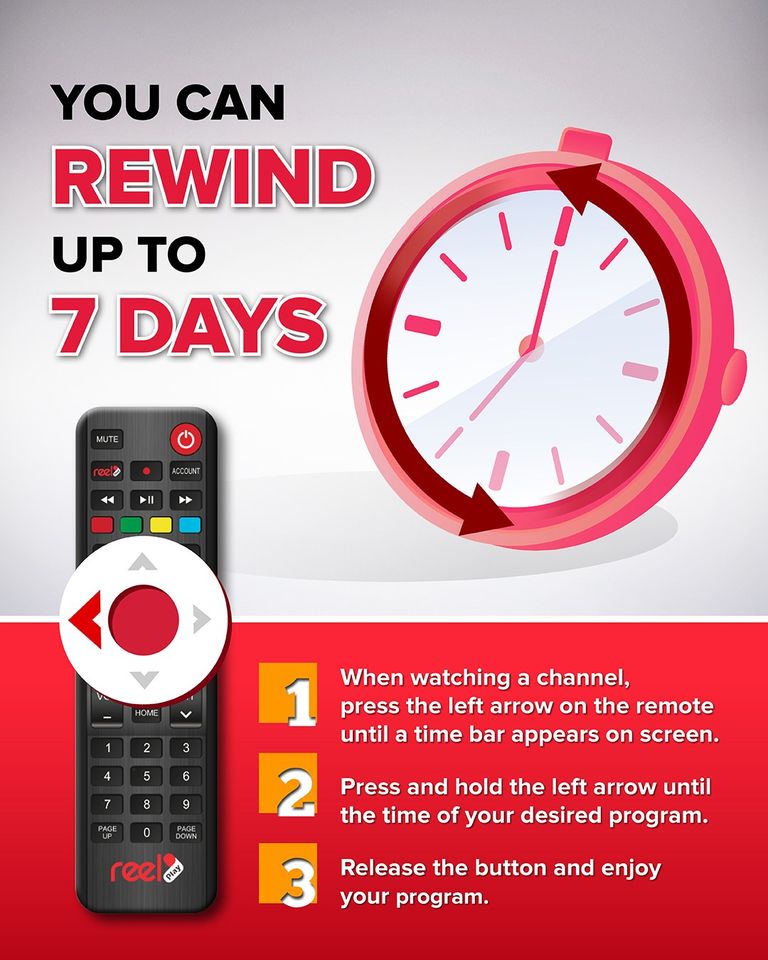 Featured products
Reelplay Italian IPTV BOX is a comprehensive collection of Italian TV channels that can be streamed live, as well as the ability to rewind and watch previously aired programs for up to 7 days.

Express Delivery (Normally 3-5 working days).

This product includes 3-Months of Italian service FREE**

** Only Available for NEW CUSTOMERS, Existing Reelplay Customers cannot redeem the 3-Months Free offer. one-per-customer or household, Reelplay 3-Months Starter Pack offer available only at www.reelplay.co

Are you tired of missing your favorite Italian shows and movies because of your busy schedule? Introducing our new Italian live TV channels service with a 7-day rewind feature "reeltime" and an EPG guide. Never miss an episode of your favorite Italian dramas or the latest news from Rome again! With our "reeltime" rewind feature, you can catch up on the shows you missed up to 7 days after they aired. Plus, our EPG guide makes it easy to find the shows you want to watch.

Our service also offers a wide range of Italian channels, including sports, news, entertainment and more.

Don't let your busy schedule come between you and your love for Italy. Sign up now and start enjoying the best of Italy with Reelplay Italian live TV channels with a 7-day rewind "reeltime" feature and an EPG guide.

Watch 60+ Greek live TV! - Reelplay Greek IPTV BOX, Greek TV channels, 3-Month Greek TV Starter Pack.

Express Delivery (Normally 3-5 working days).

This product includes 3-Months of Greek service FREE**

** Only Available for NEW CUSTOMERS, Existing Reelplay Customers cannot redeem the 3 Months Free offer. one-per-customer or household, Reelplay 3 Months Starter Pack offer available only at www.reelplay.co

Unlock the doors to the captivating world of Greek and Cypriot television with our premium live streaming service. Our elegantly designed electronic program guide (EPG) ensures that you never miss a moment of your beloved shows. The added convenience of our 7-day rewind reeltime feature allows you to indulge in your favorite programs at your own leisure. Immerse yourself in the rich culture and traditions of Greece and Cyprus by streaming the most popular channels, anytime, anywhere. Treat yourself to the ultimate viewing experience, subscribe now and elevate your entertainment to new heights.

Reelplay Arabic IPTV BOX is a comprehensive collection of Arabic TV channels that can be streamed live, as well as the ability to rewind and watch previously aired programs for up to 7 days.

Express Delivery (Normally 3-5 working days).

This product includes 3-Months of Arabic service FREE**

** Only Available for NEW CUSTOMERS, Existing Reelplay Customers cannot redeem the 3 Months Free offer. one-per-customer or household, Reelplay 3 Months Starter Pack offer available only at www.reelplay.co

Introducing the ultimate solution for Arabs abroad! Say goodbye to feeling disconnected from your culture and language. Our Arabic live TV streaming service offers a wide variety of channels from the Middle East and North Africa, including your favorite news, sports, and entertainment programs.

Our EPG (Electronic Program Guide) feature makes it easy to find and watch the programming you love and our 7-day rewind "reeltime" feature allows you to catch up on anything you may have missed. Whether you're in Australia, Canada, or anywhere else in the world, you can now access the channels you love and stay connected to your roots. Sign up now and bring a piece of the Middle East and North Africa into your home!

TL-PA411KIT

AV600 Powerline Starter Kit

Is your Router too far from your TV causing you Connection or Streaming Problems?
We got you covered with this powerful product. No need to install Ethernet Cables with this device, Simply plug in and get high speed connection to your Devices.
No new wires, Easy Plug and Play operation, and no configuration required.
HomePlug AV standard compliant, high-speed data transfer rates of up to 600 Mbps1
Miniature design, smaller than most powerline adapters at the market, blends discreetly in front of any power outlet.
Power-Saving Mode automatically reduces power consumption by up to 85%2

Cat6 Ethernet Network Cable High Speed

Wired Home and Office Networks
Secure & Reliable Connection
Gigabit 1000Mbps Speed
Strong Durability

4K 60Hz UHD HDMI PREMIUM CERTIFIED CABLES - PROLINK

2M Prolink Certified Premium HDMI Cable

HDMI V2.0 HIGH BANDWIDTH 4K 60Hz HDR 18GBPS

Prolink Premium HDMI cables are designed to meet the high bandwidth demands of the latest HDMI V2.0b specification supporting the full 18Gbps bandwidth. High quality materials & construction ensures ultimate performance and High reliability for 4K/60HZ HDR content. Tested and certified by the HDMI Labs Authorised test centre, this ensures that these cables support all the latest features in the HDMI V2.0b specification



Full 18Gbps 4K60(4:4:4) bandwidth certified
UltraHD 4K@60 2160p and other VESA Resolutions
Support for the wide angle theatrical 21:9 aspect ratio
Certified Premium HDMI ensures 4K/UltraHD ready
ARC (Audio Return Channel)
Low Latency
HDMI 2.0b, HDCP 2.2, 3D Signals
HDR - High Dynamic Range video
Dolby® Vision
Dolby® True HD, DTS-HD Master Audio and up to 32 audio channels for a multi-dimensional immersive audio experience

Only 5 left in stock

CyberPower CPSURGE08USB-ANZ is ideal for expensive home theatre system and audio/video devices protections. The MOV technology guards the surge suppressor and connected electronics such as phone, network, and communication equipment against surge/spikes and other power abnormalities. EMI/RFI noise filtering helps reduce frequency interference. The one-in/one-out gold plated coaxial connector provides protection for cable/satellite TV receivers and broadband modems.

FEATURES

Surge Protection
Overload Protection
Computer-grade Protection
Keyhole Mounting Slots
EMI and RFI Filtration
USB Charging Port(s)
Best-in-class Dustproof Design